Slow and maybe progress ....
News and updates (the saga).
Tuesday, July 8th

A technical round table has been convened by the Sopraintendenza (Ministry of Cultural Heritage) to be held before the end of this month to discuss our proposal which has been accepted for the restoration and enhancement of Torre Argentina. So we are all waiting for the next update.

Wednesday, May 21st

It HAS been quite a while. And you'd think we would have great and exciting, or in any case even just sort of, news. Well we haven't: except to say that we are continuing to dialog on a regular basis. Not frequently but ongoing. So bear with us just a little (or not) longer.

Tuesday, February 25th

There was a meeting with the local Superintendent in which a proposed project for Largo Argentina was presented. A minor part of the project also includes future changes for the Cat Sanctuary, and obtaining space for the cats under tower rather than in the temple where we are now. We would only need to sustain the costs of rendering the area assigned to us suitable for our purposes.

The City Superintendent has approved the project and it has now gone to the national level. We now have to wait for their decision and, hopefully, approval. This by no means guarantee any changes in the near future since even if the project obtains final approval the government will have to find sufficient funds to implement it. The positive aspect is that the agreement, once approved, will permit to stay here until the project is completed.

Tuesday, February 4th

Many of you may have given up and stopped checking in on the updates. Quite understandable. Incredibly there is as yet no change in our situation. Which is good in a way: but the suspense! Many here say it is part of Italian politics. That may be, but it doesn't lessen the suspense any. The mayor has not yet appointed any superintendent (since June 17th!!), which, as most of you know, is a prerequisite to future negotiations.


Monday, December 16th


Wow, an entire month and a half: no news.

Obviously of our individual cats there is much new: adoptions, deaths and newcomers.

We are trying to keep up with all the correspondence of our Adoption at a Distance and the inquiries we get. We hope you all receive the Christmas and Season's Greetings we are sending over the course of the next couple of days. If you have not received them by the end of the week let us know, there may be some slip up with your email address in our database.

As for the eviction threat: witherward are we headed? Ah, good questions seldom have forthright and simple answers. Especially in this case.

We had another meeting with the Archaeological superintendents and we are still working towards a workable solution. What more can I say. We have been waiting for a piece of good concrete news, and we have to make do with piecemeal measures.

We would have been so happy to change the headlines on our diary,: a display of success. But as it is, we must wait.

In the meantime: Season's Greetings to all.

Friday, November 1st

Sorry if it is frustrating to open our diary expecting new news (sorry about the pun). I would venture that is even more so for us who have to live with this lack of news. We try to make the best of it and continue waiting for something new, hoping it will be favorable for the cats and our work.

Changing the subject, we have some marvelous cats waiting for a home. Two I will mention, for those that do not know them, are Maggie and Marron Glacee.

You may see their pictures if you go to WWW.CATSDB.COM and sign in as "guest", then click on "go to DB" and click on the cat's name in the list.

Maggie is as sweet a cat as can be. Just petting her she begins purring, she also one of the most playful cats here who has kept the temperament of a kitten. She loves sitting next to me in the office and even tries to play with Charm (the dog).

Marron Glacee is just as sweet, and also loves to talk. She meows softly when you greet her.

One would think they would be swept up and taken home immediately. But, alas, that is not the case. Is it because Maggie has lost an eye? And Marron Glacee, the fact that she is a small cat and when she was pregnant the weight resulted in an ulcer. She has been operated twice but the muscular damage was great so she has a thick lump on her belly. Both cats are fine; they are healthy and love company.

Can it be that people are so superficial that they will not consider them for adoption because they are not perfect specimens? I try not to believe that. Yet the fact remains that no one wants them.

On the other hand, just to make things confusing (but in wonderful way) today, World Vegan Day, group of young people had celebrated it at the Pantheon, nearby,.and decided to stop by and visit us. One of them adopted Saro, a blind FeLV cat, whom we thought had no hopes for a home but could not stay with us (he would have put the other cats at risk). This created a serious predicatment which would have been very difficult for us to solve. We thank the young woman who will give Saro a home in the time allotted to him.

The weather is still warm, and in fact there was no break between summer and Indian Summer (except perhaps a bit of a rainy season for a couple of weeks). The cats of course are enjoying the fine weather, and who knows, perhaps they too enjoy memories of their youth. Just as some of us recall the start of school and (sigh) the end of the carefree summer games when we see the autumn leaves.

In our cultural corner: in some parts of Spain Indian Summer is called Veranillo del Membrillo, the little summer of quince and in Italy (as many other parts of Europe) it is Saint Martin's Summer. and Shakespeare called it All-Hallowe'en Summer. In German it is sometimes called Altweibersommer, though perhaps a nicer name for it is Goldener Oktober. And in case you thought that felines have nothing to do with it, in China it is called "autumn tiger". So there you have it.


Meanwhile we wait for the Roman authorities ...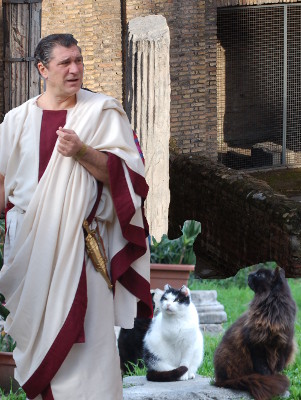 Monday, September 30th

First of all thank you all for your patience. Perhaps it has been discouraging not seeing any updates for such a long time. It certainly has been for us since apparently there still is no local superintendent as yet and so we have no one who can tell us what the mayor's attitude towards us will be.

Let uis hope that the dictum "No news is good news." be applicable to us.

Our work continues in any case.

On this rainy day we have posted Silvia's recounting of the twenty years she knew Lia in the section dedicated to her.

September has been a very busy month, we have have found a home for 30 cats, and have welcomed 22 newcomers.

Tuesday, August 20th

So far things are quiet, politically speaking.

There have been changes implemented by the new mayor around the Coliseum, he wants it to become a pedestrian area, as well as a few other sites in Rome. This has seemed to have angered many shopkeepers. Perhaps because of this the press has been paying attention to various archaeological sites, but they so far have ignored Largo Argentina. There was a TV show, though, which repeated the same tired story about how cat ladies are ruining the image around Rome's monuments. They seem to think that ithe image improves with hundreds of sick, pregnant and injured cats.

Perhaps we will have more news in September about the threat of eviction, hard to say when. Probably depends on when the mayor will appoint the new archaeological superintendent.

Calls about abandoned cats keep coming in. Though as the summer wanes we expect them to diminish.

We now also have an abandoned bunny rabbit. Yes! We called a couple of associations that handle abandoned rabbits and they said that they are overfilled. So it is not just cats and dogs. People apparently leave rabbits in a cage near a busy street hoping someone will pick it up. We are now keeping it, but we have already found a home for it. They are going to come and pick it up at the beginning of September.

Lia's absence is still hard to believe sometimes but we are continuing the work she and Silvia have started. We are trying to keep up with the correspondence and most of all to do as many sterilizations as possible.

Thanks to all for your support, we do appreciate letters coming in, and if you would like to write something about Lia we are posting some in the section dedicated to her.

For those of you who are cat lovers (I suspect many) this article may be of interest:

Signs Your Kitty Actually Loves You


Friday, July 19th

It seems that we will have to wait another month at least before we know who will be nominated as superintendent of the local archaeological department. Our main worry is that in the summer some bureaucrats may feel free to move against us, as they tried to do last summer, because so many politicians and supporters are away for vacation.

So even if we do not post updates very frequently please check back should we need to ask for petitions and appeals. The response last year helped to make the authorities sit at a table with us. Unfortunately we have no idea what the attitude of the new administration will be. We are counting on the fact that some politicians have been our supporters for many years.

If things are quite it gets boring to keep writing "no news yet", so we hope that you will understand that if we do not write anything for a week or two it is not because we are twiddling our thumbs. In fact, as you may have seen on the News page, we are very very behind in answering our letters, so please forgive us. We want to keep in touch with all of you and we are trying our best.

The last period has been very trying. Lia was in hospital for the few months before she passed away and Silvia, Carla, and other volunteers went to see her regularly. This contributed to the backlog in our work

Sunday, July 7th

Still no news from the mayor's office or the archaeological department.

As you saw from our news section, Lia passed away and the funeral was held at S. Francis church in Trastevere yesterday.



The purrs that speak of warmth and love

Of ones who never would have had some,

Those whom you helped save;

That was the kitten's way of blessing.



For and from all those donors: gratitude,

In their giving to a vision

Born of compassion for those small lives

Who shared with you

That but brief time on earth
.


Monday, July 1st

The Mayor has formed his new cabinet. and met for the first time at the end of last week. Now we are waiting for him to appoint the various offices, so there is still little we can say regarding his attitude towards us. Sorry, I know the wait has been long for all of us.


Monday, June 17th

Well, elections have come and gone. The new Mayor is Marino from the PD (Democratic Party). Just as we thought, there is no news and it will be a few days, at very least, before we know what he thinks about the cat shelter and whether he will be willing to help find a solution which fits the needs of the cats, and of Rome (they go hand in hand). It is that sensitivity we need to the problems of the city and its citizens, including the furry ones.

Thanks to all those who read our Diary: and to all those that spread the word so that more and more will follow it.


Tufa blocks and worn chiseled marble

Made red by warm sunset glow

And cats infuse with life.

Cats, cared for by those

  Without whom, ruins

Would be but muted stone.

Temples and cats

Are body and soul

Where ancient meets

The modern Rome.






Saturday, June 8th

Countdown to the mayoral elections in Rome! Tomorrow and Monday the polls are open. We should know who wins by Monday (or Tuesday if it is a close call).

Of course that will only be the beginning (how many times have we heard that), the next step will be to try and understand what the mayor's attitude will be towards us, and what possibilities we will have to speak directly with whomever wins.

So what can we do but have a bit (so to speak) more patience, before we decide what sort of action need be taken.

Thanks to all of you who follow us on our website, and the support so many of you show us.


Thursday, May 30th

Things have not changed much yet. We still do not know who will be the mayor of Rome.

Everyone is waiting to see how the second round of elections will turn out.. There were a lot of candidates in the first round and none got the majority so there will be a second round with the two candidates that obtained the highest number of votes.

The two candidates are: the incumbent who has visited us a couple of times already and has promised to help us; the other is the candidate for the Democratic Party. We do not know what his attitude towards us will be. In the polls he seems to have the lead for now.

For now we continue doing our work. The work on the new tram line is almost finished, there are now traffic lights on the corner, and a wider sidewalk on the side of the bus stop (for those of you who have been here). They are testing some trams, and as they go by they do make a quite a bit of racket. It is said that we will get used to it. Certain trams make a screeching noise, when that happens you see some of the cats rush for cover.

Weather has been very variable, rain, shine and winds, so the cats have to wait a bit longer to sit lazily in the sun the whole day.


Saturday, May 18th

This is quite a hectic period (so what else is new?). We have managed to halt the ban that would have precluded our use of the tower del Papito. Now we need a political leadership who is sensitive to the needs of cats, our association, and the city of Rome. A leadership that realizes that letting us use the tower would be a solution to all sides of the negotiation. A proposal had already been drawn up (together with, but mainly by) archaeologists. It is hard to fathom why the resistance to its implementation.

There was an excellent article in the international Herald Tribune a few weeks ago on the art of doing good. It mentioned an interesting phenomenon: some artists, as well as some museums, are trying to go beyond art for art's sake and are turning to art as a form of social awareness; that is active in socially useful activities,anything from activity with the poor, refugees or the homeless, for example.

This could certainly apply to Largo Argentina: the archaeological monuments, the cats and the care of both: a symbiosis in a place where visitors learn about Roman monuments and help to do good for stray cats (and thus doing good for the city). It would be an opportunity to set an example of how culture is not just about displaying artwork, but is also something that benefits the community. Here the postcard image of Rome: a cat on a marble monument, could actually stand for the integration of aesthetics and ethics: art and social utility..

Elections are around the corner: May 26th. We have had several politicians and aspiring mayors come and visit us. We want to know whether whoever wins will be able to fulfill the promises made.

On note of interest: this is the first election in which all political candidates seem to have discovered animal rights and the importance of showing how much they love animals. Again, let's hope that they are not hollow campaign speeches.

Monday, May 6th

We are once again accessible to visitors. Much of the future pedestrian area has been opened. Road work above us is ongoing but less invasive.

The Archaeological Department has been notified of our legal action and we are waiting to see how they will react.

There is a new short film clip in the Videos section showing one activity that is often overlooked when we talk about what we do: taking care of the injured and disabled cats. Cats that would not survive without human care.

It is important to clear up a common misunderstanding: the authorities are not trying to evict the cats, they know full well that legally it would not be easy. They are trying to evict our association, the presence of our volunteers and visitors.

When some authorities state it as an alternative: either cats or the monuments, they create a false dichotomy. There should be no reason why cats, and the concern for their well being, should conflict with the existence of an archaeological monument. But if they insist on this either-or then they should clearly admit that they do not care what will happen to the many injured and disabled strays that no one would then be able to take care of.


Friday, April 26th

Well, work on the side walk and pedestrian area above us is still ongoing but most barriers have been removed, so people can start coming down again. For those of you who came from overseas to visit us and could not come in we are really sorry.

We are waiting for judiciary authorities to notify the Archaeological Department of our legal challenge to their call for bid (see below for details).. Let us hope it will be an incentive to work with us towards a solution as they had promised and guaranteed initially and not to become embittered and try and force an eviction.

Thank all of you who are following us and support our work.


Wednesday, April 24th

The construction work is still ongoing, we are still in the middle of a construction site. Though the workmen prepared a little ramp, in the photo below, so that at least when we cross over the entrance we don't have to waltz around the masonry; I guess we have to be grateful for little things.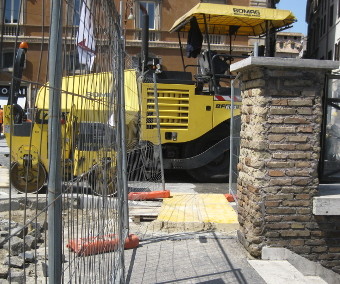 On a more serious note, we have begun legal proceedings against the administration. First of all let me preface this with a thanks to the Mayor who has been supporting us in this difficult battle; for a battle (albeit legal) it is.

Let me backtrack and explain. A call for bids for the Papito Tower would allow whomever is awarded it to use it for cultural purposes, so they said. They had assured us that we would be able to participate. When the formal publication came out we realized that instead we had been purposely shut out. We gave them until yesterday evening to modify the wording as they had promised and threatened to block the call for bids. We waited until the last minute and then, regretfully, we had to proceed legally to halt the bidding. We wish it would not have come to this, and we are very disappointed in the authorities who thought that we would passively let them walk over us.

This is something we had hoped to avoid; we believed they had taken us and our work seriously. But apparently we were mistaken: they thought they could ignore us and fool us with false promises.

You can see a picture of the tower, and the area underneath which we were told could have been used to house our activity.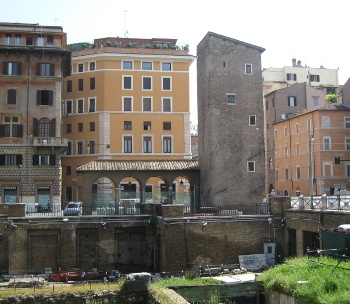 We hope they will be more forthright and negotiate a solution, but we fear that they may react harshly now that they realize we mean business.

If need be, we will start another petition and ask all of you for your support and letters. For now we ask you to continue following our diary and be ready to stand behind us.

Again, thanks to all those who support our work.

Monday, April 22nd

Things are getting more difficult here in the middle of the construction site. They had promised that at least the side walk would be cleared by today so that people could come; well it looks like this is going to last another week instead. And there is nothing we can do but wait.

The area is still inaccessible (volunteers manage to come in; wending their way among machinery, piles of stones and sand) but for safety reasons we cannot invite people to visit us. We are asking people who need to come (adoptions, sterilizations, or food for the poorer gattare) to call the city and complain. Not that we think that will speed things up.

Thursday, April 18th

Here are some pictures showing the ongoing work. We are waiting anxiously for them to finish, at least to reopen the pedestrian side of the street so that visitors can start coming in again.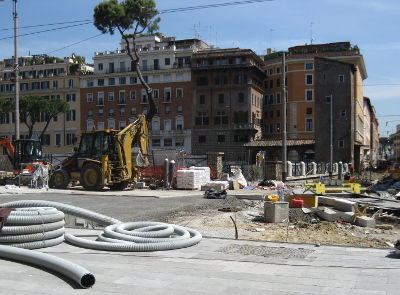 In cased you don't recognize it in the picture, here is the same image with a red arrow indicating the entrance to Torre Argentina.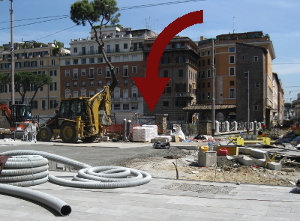 Here is where the future tram will curve around, we are under the street level right before where the tracks curve: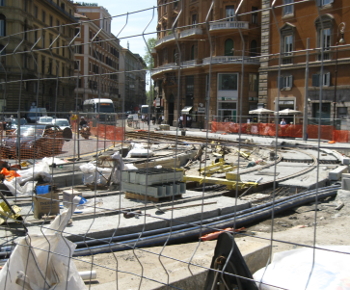 And here is another view from across the street, the whole area is fenced in for now.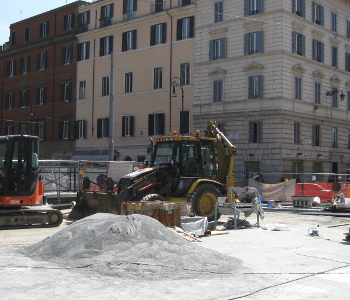 Tuesday, April 16th

The tram line construction has disrupted all work at Torre Argentina and is wreaking havoc in these already difficult times.

The entire area has been cordoned off, they are drilling to put up the poles for the overhead wires for the tram. It is difficult, and even dangerous, to go down and feed the cats or give therapies to the ones that need it.; but of course, we have to. Cats have gone into hiding because of the noise and confusion. Poor Ophello, the oldest cat at TA, escaped in the back underground tunnels to seek safety, let's hope he will not get lost.

We tried working there yesterday despite the drilling but it proved to be ear splitting and not quite safe. The irony is that in order to minimize the damage and not use high pressure drills, which would require large amounts of water, the construction workers have opted for slower drills which means that it will take about a week for them to finish and reopen the sidewalk.

Even daily tasks such as getting rid of the accumulated garbage are made more difficult (when cats number in the hundreds you can imagine the amount of litter, not to speak of paper, and other waste). Since no one can come near we have to carry all those enormous trash bags to a coordinated site where they can be picked up. Cleaning and caring for the cats becomes a burden.

The number of people who just stopped by had already dropped thlegally e last few weeks since all but a small sidewalk was open. Practically only those who were determined to find us could do so. Now we will have no visitors whatsoever for about six or seven days.

Needless to say that people cannot even come near the area is a great loss on all fronts, also because we depend on daily visitors and their generosity for large part of our expenses.
legally
Last, but not least, some visitors have come from abroad just to visit us only to find that their trip risks being all for naught. Little do those that put forward these large projects realize how much it may affect people - and cats - of which they have no knowledge.

Monday, April 8th

Not only have things not improved, but the attitude of some seem to have hardened against us. The National Archaeological Department has reneged on its promise to look for a solution and seems to simply insist on our being evicted. The bid for tender for the tower nearby seems to have been designed to exclude us and our association.

The work on extending the tram line above our heads is under full swing and making it difficult for people to reach us since most of the streets have been cordoned off.

It is really too sad that things are so difficult right now, we would much prefer to be talking only of the positive news, such as the 125 cats we managed to place last year, and the over 3,000 we managed to have sterilized despite the chaos that reigned here.

We do not want to sound like we are whining; the past 20 years we have been combative and positive, and have managed to do so much. This is how we want to continue. But if the situation will call for it we will certainly stand fast and ask for all of you to back us up.

Thank you again all, and please pass on the address of our site and the News, we may need all the support we can get.

Monday, March 18th

National elections have come and gone, and uncertainty seems to have invested the entire country. We don't even know what and if a government will come out of them.

Here at T.A. we have lived with our own and there still is no worthy news. The only thing is that today the bid for tender for the Torre del Papito has come out. It was supposed to be the tower for which the Archaeological Department had said we could also present a proposal. The wording in the official announcement however seems to exclude organizations such as ours, and we feel rather betrayed by them.We now need to understand it better. We will let you know as soon as we have further clarification.

The local elections for the mayor of Rome will be at the end of May. They should (conditional is mandatory, given how little is resolved this period) have a greater impact on our status.

So again we can only ask that you share our patient wait for a more concrete turn of events.



Thursday, January 31th

For now we have suspended the petition site. Again thanks to the many many signatures we received.


Friday, January 18th

Sorry, there have been no updates for a while. But then there was not much to say. We have had a good turnout in terms of people writing (about 30,000 emails, even if many were duplicates that is still a good number) and people thanking the authorities.

We had a meeting on Monday. Hoping that it would have been a technical meeting on proposed modifications to the area so as to allow us to remain (somehow). Instead it turned out to be rather inconclusive.

The local archaeological department has expressed the possibility of proposing some adaptive changes to the rooms we occupy, and that they want to be able to excavate around the area where the temple steps beyond the cat shelter.

People are probably biding their time in view of the upcoming elections (national in February and local in March). No other meeting date has been set.

Thursday, December 20th

We had an informal meeting with authorities from the local Archaeological Department to define who will participate in the committee and find a suitable date for a first official meeting to discuss the technical questions for a project. The feeling is that it will be very very difficult to find a project that will meet with the approval of the National Department. Given the holidays, upcoming elections and usual difficulties with any government institutions the process promises to be a long one.

Wednesday, December 19th

We had a petition to send a thank you letter to the mayor and authorities.

Tuesday , December 4th.

Today the Mayor , Rome's Archaeological Superintendent, various archaeologists, and other authorities came to visit Torre Argentina. After a short discussion on the interpretation of the previous meetings, they were all invited into the shelter to observe first hand what we do. Finally a proposal was made: since we occupy only part of the temple grounds, and not the section where the Roman steps are, most dear to the archaeologists, we could look for a sponsor to do restoration work so that the sanctuary conforms to standards set by the archaeological department.

The local archaeological department will have the difficult task of convincing the national superintendent.

The mayor also reiterated that the work we do is essential and we cannot be moved, and he will work closely with Rome's superintendent to assure that we can remain.. His video recording the visit is at:
la-colonia-felina-di-torre-argentina-non-e-in-discussione

(A summary follows below.)

Time is of the essence, since elections are looming, around February probably, and we need to be sure that whatever agreements are reached will be formal and binding for whoever will be elected and appointed in the next legislature.

Summary of the Mayor's video:

No one may dispute the presence of all these cats, they are part of the history of Rome and those who care for them must be thanked and supported by all of us: these are people full of passion who do a service for our city. We will explain to the [National] Superintendent that they can and must respect our cultural heritage, but they cannot evict this association, just as they cannot touch the cats. The cats and those who care for them must not leave. Woe to whomever touches the cats of Rome!


There is also an great article,from a couple of weeks ago, on the NYRBlog,
roman-cat-fight which has excellent insights into the situation. (The only real issue is that they keep mentioning a hospital, which we do NOT have. Cats are cared for by our vets at their clinic.)

And NPR, if you have not heard it, has a broadcast on our situation:
cat-fight-in-rome-beloved-shelter-faces-closure

THANKS EVERYONE again for your continuing support, let's keep up the spirit, the pressure, and the gratitude, Rome will be a better city for it.


Thursday, November 29th

The Mayor said that maybe he will come visit Torre Argentina next Tuesday. It seems he will come with various representatives from the archaeological department. If he does come we don't know what that portends, we are keeping our fingers crossed that it will be positive.


Tuesday, November 20th

The Department of Animal Protection and Welfare obviously look with favor on our association and the work we carry out. They have replied with a letter in Italian to those who signed the petition. Though their letter comforts us it is a far cry from the threat being over and from satisfying the other authorities.

The following is a translation of the main points of the letter:

First of all we would like to thank you for your message which displays civic sensibility and participation.

We share your concern for the threat to the most famous feline colony in the world, thanks to which Rome had obtained international recognition for its care and protection of animals.

Our Office, at the end of October, had entrusted the Manager of the Urban Environmental Office to once more let the authorities of Rome Municipality know our assessment of the situation at Torre Argentina, as we had done in the past.

On November 2nd, 2012 we sent a letter to the Administration stating that the association is not only not in contrast with the territory but in fact according to Italian law the rights of living beings prevail over that of monuments.

Furthermore the presence of cats and of the Association not only cannot be considered damaging to the monuments but we consider it in fact an added value.

We have also issued regulation for the protection of animals, an important document for the protection and well being of all animals within our city.

In any case it is the duty of citizens to help guarantee the quality of the protection afforded to animals.

I also wish to reiterate my personal commitment, and of all those who work with us and we will carefully monitor and take a firm stand towards the cat colony of Torre Argentina.

Monday, November 19th

First of all we ask everyone to forgive us for the enormous delays in answering our benefactors and supporters. Much of our time is taken up responding to or meeting with authorities and in general trying to deal with the situation as it develops.

It is not always easy to summarize, and even harder trying to make predictions. We met on Friday (Nov. 16th) with a City Environmental Councillor and presented a summary of the past meetings to present to the mayor and asking to meet with him. We would like to know what options are open to us and if possible would like to push the competent authorities to act on the proposal by the Local (City) Archaeology Department for a joint project which would allow us to continue our activity.

Friday, November 9th

First of all we wish to thank everyone for the great response to our appeal. Over 6500 petitions were sent to the archaeological department and to the city government!

A meeting was held yesterday with the Local Archaeological Department, Health Department and representatives of PD (Democratic Party). There were no representatives from the National Archaeological Department. Since they were the most vociferous in criticising our presence we would have liked to have their opinion. Everyone agreed on the need to cooperate in a spirit of collaboration. We also hope that the attacks in the press will finally cease as it did not help to create a working atmosphere.

The Local Archaeological Department said they have to answer to the national level and so they need to follow strict guidlines and require their approval on any proposal. The hypothesis is that we occupy a smaller space but will have an alternative location, perhaps uptairs, where we can receive visitors and give information. The idea is that we can welcome visitors both for the cats (the cat was designated as bio-cultural heritage) and the archaeological monuments. We emphasized that we obviously need to allow visitors to see and interact with the cats since this is the very reason tourists come and visit us.

The appeals from our site are at CATS Appeal Home

and the other petition is at ipetitions.com Petition site

For now let's keep up the pressure.

As usual we will keep you posted with the developments, especially the next couple of weeks.


Monday, November 4th

We will have a meeting this Thursday, Nov. 8th, with the Sovraintendenza to begin survey of the grounds for a possible solution. So for now we can suspend mailing and letters. They certainly helped get things moving. WE WISH TO THANK EVERYONE who participated. We hope there will not be any need for another mass mailing. We will keep you posted in any case.

Wednesday, October 31th


To send a letter supporting our activity. we put up the following:

ipetitions.com Petition site

as well as on our site

CATS Appeal Home



Thanks.

Tuesday, October 30th

The newspaper La Repubblica is writing attacks against our Association trying to justify our eviction, Please write to:

larepubblica@repubblica.it

cronaca_di_roma@repubblica.it

Just the following lines:

Do not touch the Volunteer Association at the Cat Colony of Torre Argentina. Do not evict the volunteers. Their work is essential for the cats of Rome.

Use whatever subject you wish so that they do not filter the emails.

Tuesday, October 23rd

We are in close contact with different representatives of various city administrations (archaeological, health and safety, hygene and others). We are asking for an urgent meeting and survey to determine a possible location within the archaeological area, where we can continue to carry out our activities. On the basis of the survey we, together with the local archaeological administration, will draw up a project to present to the city council.

For those of you not familiar with the situation there are a couple of points to be cleared up. Rome enjoys (so to speak) TWO archaeological administrations, which some feel leads to some conflicts of responsibility. The National Administration is called Sopraintendenza (note the P), and the local one is called Sovraintendenza Capitolina (note the V). The former is demanding that the latter find a solution to our presence otherwise they feel they must act on their threat.

The second point to bear in mind is that the Region and city will have elections in spring and this is raising hopes, confusion and fears as to who will be in power afterwards. So there is a general scramble to have something to show and an ongoing power play. It is hard to gauge how this is affecting the administration (Health and Safety, Archaeological, City Council etcetera etcetera).

One last point, in much of the international media there has been a lot of hype about a discovery of the "exact" location where Caesar was assassinated. As many of us, and many of our visitors, were aware of, this has been common knowledge for quite a while. The purported proof was announced a bit prematurely since it has not been confirmed. This caused some of our supporters to worry. This "discovery" should not impact us in any way, since he was not assassinated in the temple where we are. (For those who do not know, it was at the entrance to "La Curia", that is a hall within Pompey's Theater, located between the temple we are in and the round temple.)


Thursday, October 4th

Today we had a meeting with numerous representatives of the Administration. The feeling is that the outcome was positive. We left with the commitment to work together to elaborate a plan that will allow us to continue our work and at the same time be an integral part of future activities by the archaeological department. It is tacitly understood that as long as no other site has been found we will continue our activity here at TA.


Monday, October 1st, 2012

A meeting has been called by a City councilor for this Thursday with the representatives of various administrations: health department, archaeology superintendents, city council, and other departments as well as, of course, members of Torre Argentina.

It will be an informal meeting to sound out the different points of view and hopefully proposals for a solution.

We will keep you posted after the meeting.


Friday September 14th, 2012

We'd like to thank everyone who is closely following our situation. We have had a couple of meetings with politicians. There will probably be a round of other informal meetings to gauge possibilities and sentiments. The general consensus is that for now its better to wait before sending letters or activate the media. The reason is that there will be elections in the spring and that is already generating nervousness..

Friday September 7th, 2012

This is a more detailed summary (contradiction?) of the situation as of today. Not much new yet, but here is some background which may help clarify some points.

As we mentioned before we are going to try to deal with the situation on an administrative level. We are going to contact the various people with the political recognition to call for a round table. The idea is that before the authorities (archaeological ministries, the city government, the health department et al.) we stand firm on our demand and ask them to find a political solution satisfactory to all parties.

There are strengths and weaknesses in our situation. On the one hand, from a legal point of view, there is not much we could appeal to, but on the other  our strength is: moral (the job we do), historical (decades of continuity) and political (the support of many serious institutions). He pointed out that the archaeological department has the authority to force us out if the legal basis exists. Since they did not they must not feel they have legal grounds. That is why they have tried to send other administrative offices, such as the health department. Perhaps hoping others would have the legal clout and willingness to carry out their threat.

Another aspect which we hope will be in our favor is that there are two competing offices in charge of overseeing the archaeological sites of Rome, Sopraintendenza Speciale di Roma and the Sovraintendenza di Roma Capitolina, which has, at least tacitly, accepted our presence here at Torre Argentina. This may be a double edged sword should there be a feud going on between them as to who has the real authority over the ruins of the Sacred Area and we be caught in the cross-fire.

As the politicians and leaders of major animal rights organizations come back from August holidays we will be contacting them over the next few days, and explain the situation.

Only if the talks should fail to bear fruit would we then start asking for petitions, letters and especially mobilize the media. In that case we will activate the website with the petition and let everyone know what our course of action will be.

The feeling is that it will be hard but (at least) for now there is no reason to be pessimistic.

Tuesday, September 4th, 2012

First of all, thanks to everyone who is following our vicissitudes.

We have now defined a course of action thanks to counsel of someone with great expertise. For the time being we will try to find an administrative solution. It will take a few weeks to contact the various competent authorities and arrange meetings.. We will then proceed with our plan for asking cooperation from the various administrations in finding an amicable solution.

Hopefully that will bear fruit. We should be able to tell in the next few weeks how much room for optimism there is and be to able to be more specific on details.

We ask everyone who is following us to therefore be a bit more patient. We hope not to need appeals, petitions or other actions. But of course, that does not mean we can let our guard down. Because, if we eventually need the help of our supporters it will mean that we will have a difficult road ahead and we will need all the help we can get.

In the meantime we will not be able to operate fully: we still have a minimal donation and item table. We cannot display a sign or advertise our presence and so the number of visitors has been drastically reduced. We have to brace ourselves for a difficult couple of months, that is why we appreciate everyone's support and help.

Keep following us and spread the word.


Thursday, August 30, 2012

Monday we will be meeting with the lawyer, and we will be able to give you more details on how we will proceed and how you best can help.

In the meantime thanks to all those that have been writing to us stating their support, those who have been sending ideas and those who have been so generous in this difficult period. We hope that you understand that we are extremely busy trying to deal with the situation and may not have time to answer all the letters that have been coming in.

We do have a page ready to send a petition (in various languages) as soon as we have shown it to the lawyer. We will definitely be sending out an email to everyone as soon as we get the go ahead.

We will also announce it on the diary, if then you should not have received it let us know, in case we don't have your current email address.

Friday, August 24th, 2012

Right now we would like to shout to the world, to write angry letters, at least do something! Instead we have the terrible task of doing nothing ... Why?

Because there are two aspects to the problem, one is legal and the other is political. All the possible courses of action open to us are political (petitions, putting pressing and expounding the moral legitimacy of what we do).

But the authorities are moving on legal grounds to try and close us, they are using all the strict rules and regulation of safety which may be used technically to force us out. That is why we need to seek legal counsel. We have an appointment on Sept. 3rd with a law professor specialized in Public Administration. And we will seek others. We need to have some indication of what we can and cannot do so as not to jeopardize what slim hope we have of succeeding.

It will certainly be a hard fight ahead of us, but fight we must. We are asking our supporters to be steadfast until then. And that is when we will need as much support as possible: all kinds of support, from letter writing to petitions. Only then will we be able to go full steam ahead politically.

We are putting up a website for people to go to and click to send an appeal to the various Administrations and City officials, basically stating appreciation of our work, and probably asking to support our proposal as outlined below.

We will be sending out the address of the website (the URL) as soon as we have the go ahead and details of it contents approved.

The important thing to say is that we do not want to move from here, because no other place offers both a safe haven for cats and can welcome visitors and tourists who happen by. Perhaps only the Coliseum, but that may prove even harder to obtain permission (though it would certainly meet the safety requirements).

But there is in the same archaeological area of Torre Argentina one other possible locations: the north side of the area. It is now being used as a storage place for all the unidentified fragments of marble found in the Area Sacra. The ceiling is higher than the required standard, and it would not be under a tram line, and all the required standards to grant habitability, the permission to use as working space. This would allow us to once again receive donations, care handicapped cats, pay for sterilizations and place as many cats in welcome homes as possible.

We think they could move what is presently there, repair the structure, add a stairway (at a small cost to the city) and allow us to move in and use it. We think at present that this is the only feasible solution.

After 20 years of work maintaining health, reducing the stray population and providing a place that tourists all over the world come to admire about Rome. this is the least they could do.

So unfortunately for now we have to wait ... wait. Wait long and dreary uncertain days. Because at this moment there is no one in Rome we can turn to. It is the biggest holiday season in Rome..

If we cannot find any other alternative, they will disperse our cats to horrible so called cat oases, run by paid disinterested city employees. There will be no prospect of adoption for the cats, in places without trees or natural shade. And more cats being continually abandoned by people in Torre Argentina.

And as a last small point, here is a picture of the ancient roman walls which will become just support material for the tram being built over us.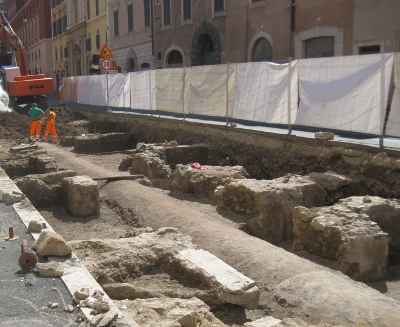 Friday, August 17th, 2012

Like a bad dream, we now have to fight for our survival. The authorities are trying to find a way to close our activities, using the excuse of public safety. They are building a tram line above which is going to be laid over the remains of dozens of ancient Roman building, but that does not seem to bother them as much as people trying to save strays, to save handicapped and injured cats and trying to do the thousands of sterilizations we manage to pay for (not costing the city a single cent, all this thanks to your generous support over the years).

They said we cannot allow visitors and we can only stay for the few minutes required to feed and care for the cats. If this will be enforced we will have serious problems surviving. This threat is a betrayal of the good will of so many you from all over the world who believe in us and are part of our work with your donations, your involvement and your participation.

To all of you who understand the importance of our work, who believe in us and have been our supporters: this is going to be the most critical moment in which you must help us fight for our survival. Unfortunately this is the worst moment of the year (everyone is on holiday) so we will need to hold tight until September when we will seek legal help. We have only a few straws to clutch at, so it seems, so we will need public support and develop political clout. We will be putting up a web page where you will be able to send an appeal to the authorities expressing your appreciation of our work.

We will need press coverage and any testimonial from actors, leaders and anyone in the limelight. We will need other animal welfare and animal rights organization to help with their experience and their support.

As you know Torre Argentina is a unique experiment, in a country which does not allow killing animals in shelters: our work in spreading the knowledge and conviction that by spaying and neutering we could help reduce the number of strays and go towards the goal of every cat born is a cat with a home and a family.

In this economic crisis and with all the problems in the world this was an oasis of generosity and good will. Please stand by us, show us your support. If we do not know you or we do not have your email please send it to us so that we can announce when and where the appeal will be posted.